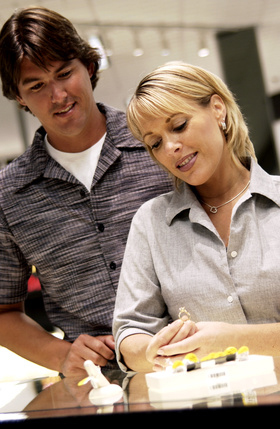 When planning to renew wedding vows, whether you are one year into your marriage or over 50 years into it, the question of a diamond ring comes up. Most people who come into our Houston jewelry store explain that they want to get a new ring to be a symbol of their renewed commitment, and the change in the ring symbolizes a step toward a stronger bond of love, understanding, and friendship. The glow and excitement in their eyes makes one smile and ponder all the wonderful memories of the moment, and to follow.
As 'wedding vow renewal' couples came into our jewelry store, we decided to start asking some questions to find out what most people want in the renewal diamond ring. As a side note… Men, please consider what 'your' loved one wants before just going out and buying the ring yourself. We recommend to have you 'both' included in the decision, so you will 'both' will be happy with the transaction. Here's what we found from our customers:
Diamond Rings
Most women love diamond rings. This isn't true for everyone; however, a diamond ring is gorgeous on a woman's hand and will go well with any outfit. Also, men, a diamond catches the eye and will let other men know to back off.
Other Gemstones on the Ring
Many women like to include other gemstones in their rings, along with diamonds, to compliment the ring, or be the centerpiece. There are more than 125 gemstones available, so we'll list the top 15 gemstones in today's fashion: Diamonds, Pearls, Emeralds, Aquamarine, Opals, Garnet, Sapphires, Topaz, Peridot, Rubies, Amber, Amethyst, Tanzanite, and Tiger's Eye.
More Ring for a Great Value
Bottom line… Women like to have a more expensive 'looking' ring than before. A serious recommitting of wedding vows calls for something more meaningful, and symbolizes that step forward. We say more expensive because often times (not always), a larger diamond, or more diamonds, also a more stylish updated setting is what most women are looking for. As Houston's Engagement and Bridal Set Headquarters, we are able to save our customers hundreds and even thousands on their purchases, so don't sweat until you've seen what we have to offer. We know you will be very pleased with what you find.
Ring Metal Type
The type of metal, such as gold, platinum, sterling silver, cobalt, titanium, tungsten, palladium, etc… and the color of each are very important considerations. Some metals are more comfortable for certain skin types. Also, the color is extremely important. Some women do not like yellow gold, while others think it matches their skin tone the best. Whatever you do, don't force a questionable color on yourself or someone else. Make sure it is right or you will not be happy. Fortunately, with the renewal of vows, many women have already noted the things they love about their previous rings and the things they would change, so they probably have a really good idea of what they want.
Style of Ring
Consider the many styles of the different rings available, or let us help you design the perfect ring for the occasion. We specialize in custom jewelry, and that includes wedding sets and diamond rings. This is a great opportunity to make this special occasion as meaningful as possible.
Let Us Make the Process Stress Free
Those are the top things to consider as a couple when purchasing your women's wedding vow renewal ring. We work to make the process as easy as possible for our customers at Houston's jewelry store, Harold Reese Jewelers. Let us walk you through the process of selecting the wedding vow renewal rings that you will fall in love all over again with. Please call us at 713-910-0010 to schedule an appointment with our Jewelry Consultants. We look forward to meeting you.
http://mydiamondman.com/wp-content/uploads/2016/07/Harold-Reese-Diamond-Engagement-Rings-Used-Rolex-Houston-Since-1970.png
0
0
SEO Admin
http://mydiamondman.com/wp-content/uploads/2016/07/Harold-Reese-Diamond-Engagement-Rings-Used-Rolex-Houston-Since-1970.png
SEO Admin
2013-04-15 08:09:55
2015-10-24 03:31:00
How to Pick a Diamond Ring for Renewing Wedding Vows