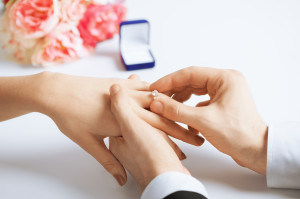 An engagement ceremony is considered incomplete without the exchange of engagement rings by the groom and the bride-to-be. To make this event truly memorable, a diamond engagement ring is your best bet!
Here's A List Of The Top 3 Cuts And Designs For Diamond Engagement Rings:
1. The Simple Round Cut Rings
This diamond engagement ring will symbolize your emotions of love to your beloved in a classic style. This design is considered to be a great blend of tradition, class and style.
2. The Princess Cut Rings
This design will offer unique combinations of rare design and cut. A rectangle or square cut diamond is fairly popular among the women.
3. The Three Stone Diamond Rings
The three stones symbolizes love between two people in the present, past and the future. This stunning diamond jewelry piece will look very attractive and elegant.
Custom designed engagement rings can also be made based on your budget. You could opt for simple diamond cuts or intricate work depending on your personalized choice of design. Let our Jewelry Consultants help you find the right engagement ring for you and your loved one. Call us at 713-910-0010 to schedule your appointment. We look forward to meeting you.
http://mydiamondman.com/wp-content/uploads/2016/07/Harold-Reese-Diamond-Engagement-Rings-Used-Rolex-Houston-Since-1970.png
0
0
SEO Admin
http://mydiamondman.com/wp-content/uploads/2016/07/Harold-Reese-Diamond-Engagement-Rings-Used-Rolex-Houston-Since-1970.png
SEO Admin
2013-09-14 10:47:08
2015-10-23 18:17:27
Top 3 Cuts And Designs For Diamond Engagement Rings